Novels & CDs
THE NOVELS:
---
Demons in the Tall Grass – Now Available!
When failed rock star Clayton Briggle, on the run from a botched L.A. drug deal, escapes to his hometown after having been gone thirty years, he reunites with his childhood friends–and finds Dawson, Nebraska to be just as haunted as he is.
From the town's chain-smoking mortician who watches all from the tower of her Victorian mansion to the disappearance of the private school principal, the idyllic town of Dawson begins to unravel and no secret will remain unearthed.
With dark humor and psychological thrills, DEMONS IN THE TALL GRASS is a tale of horror that shines a light into the back alleys of Hollywood, into the bedroom windows of a small Midwestern town, and exposes the amazing ability of humans to justify even murder and depravity to themselves.
---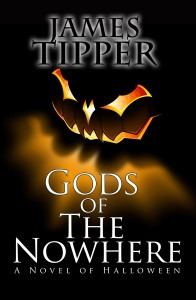 Gods of The Nowhere: A Novel of Halloween
The ancient Celts believed that the veil separating the worlds of the living and the dead was at its thinnest on Halloween; it was then that the dead could get through. But could it work the other way? Could we go to them? High school senior Sam McGrath is convinced it can be done. For as long as he can remember, The Nowhere has been beckoning him, reaching out with cold and ancient fingers.
Crippled from a childhood injury, Sam has always been different, but he knows now that his differences go far beyond the physical. Only his best friend since childhood – a brash and beautiful Latina named Lucia – knows of his strange gifts, and she has vowed to help Sam. Together they intend to find the world where their nightmares are born.
GODS OF THE NOWHERE: A NOVEL OF HALLOWEEN blends modern characters with legend and folklore to create a new myth and the ultimate Halloween read. National book review calls it "a wild ride" and Library Journal proclaims it "a winner of a spooky tale".
---
The Discarded Ones: A Novel Based on a True Story
They had many names: Cedu School, Rocky Mountain Academy, and Cascade School. Some called them cults, some said the schools saved their lives. But none of them were free to leave.
Charlie Hoff was there. Soon you will be, too.
Unlock the mysteries of The Academy with Charlie as he faces the hardest decision of his young life: escape or assimilate. Neither is going to be easy.
From tales of students that disappear without a trace to secret rites conducted in forbidden rooms, Charlie Hoff soon realizes that he must become greater than his fear in order to save all he loves.
Psychology Today calls it "an important book" and "a riveting read", and The Discarded Ones made Goodreads' Must Read Books of the Year
---
THE ALBUMS:
---
NEW! The Best of a Bad Situation
The first anthology, spanning 15 years and featuring over an hour of music.
---
---
Haunted Mind